Welcome to G-SQUARED Dance Movement
G-SQUARED BALLET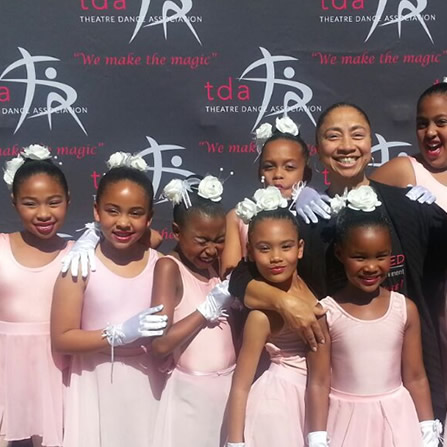 Our Ballet Classes
Grace. Elegance. Poise & Posture. These are just a few words that come to mind when I think of Ballet. This is where good dance technique is birthed as Ballet is the basis for absolutely every dance form. Picture your little beauty running around in her tutu and pretty pink ballet shoes.
---
We offer a Creative Movement class from ages 3 - 6 and a Jnr Ballet class from ages 7 - 12.
Ballet is the basis for absolutely every dance form.
G-SQUARED Dance Movement offers

BALLET

HIP-HOP

MODERN DANCE

TAP-DANCE

ZUMBA CLASSES

and we are centrally situated in the southern suburbs of Cape Town.
We are 3 amazing ladies with the heart to develop dance opportunities for young people. Our vision is to equip them with the right tools to become confident individuals, who in turn will project a standard of excellence. Based in the Southern Suburbs, our focus is to teach dance in the most fun and creative way possible.
---
We have over 25 years of dance experience
Internationally qualified
Our dance instructors are Internationally qualified through the AIDT and TDA.
Zumba Instructors
Our Zumba instructors are qualified through ZUMBA International Network.
Various Dance styles
Ballet, Modern, Hip-Hop and Tap.
No contracts
Simply choose to pay monthly or per term.
The joy of dancing
Seeing our dancers develop is what drives us.
Secure Premises
Our venue is totally secure with a 24hr security service. The studios are situated within a beautiful buiding, secure and safe for your child to thrive.
Drop-off & Collection

Parents take full responsibility for dropping and collecting their children. There is a coffee shop on our premises should you wish to wait for your child to finish.
Dance Attire

Different attire is required for the various classes. Assistance in the purchasing of the dance attire is available upon request.
and more...
An awesome opportunity for our students to strut their stuff. Everybody is included and given an opportunity to shine on stage. A definite highlight for both students and parents.
Eisteddfod is a healthy competition environment where over 60 teachers enter there students to compete. At G-Squared, this is based on a selection process, giving our students something to work towards.
Click here
to see the pictures from our 2017 Eisteddfod performances.
At G-Squared, we use the fun and fabulous TDA Exam Syllabus for all genres. This is a grade exam, and is used to evaluate and progress your child from one grade to the next.
We care for our children like they were our own.
We ALSO offfer zumba exercise programmes to schools, incl special needs schools!
Contact Us
Get in Touch
We are 3 amazing ladies with a heart to develop dance opportunities for talented children. If you would like your child to join, please feel free to contact us here.
---
The Office
Address: Every Nation Retreat (His People Church), Cnr/of Retreat Rd and Prince George Drive, Cape Town, South Africa
Phone: 083 360 4989
Email: giofisher1@gmail.com
---
Business Hours
The majority of our classes take place on Saturdays - contact us for the various time slots.